Can You Bring Your Own Frames to an Optometrist in Kelowna?
We all have a pair of glasses we absolutely love.
Maybe it was your first pair of glasses in school with a cool frame design or a pair that you spent months saving for. Whatever the reason, you have a pair of glasses you absolutely love. Just because you need new lenses doesn't mean you necessarily have to part with your favourite frames.
New Lenses in Old Frames
Keeping your existing eyeglass frames when getting new lenses is definitely possible, but there are some factors to consider to ensure you still get the best vision care possible.
Regarding your current frames, a big consideration is the build quality of the lenses. Inexpensive frames, like injection-molded plastic, may prove unsuitable for new lenses because they have a shorter lifespan. Your optometrist or optician will likely advise against it as the frames may break when getting new lenses put in.
The highest quality frames can survive several lens insertions before they begin to lose quality and structure. This completely depends on the material of your frames.
Metal frames usually have a few usage cycles before they begin to break down. Frames that are high quality, like some metal frames, can be repaired over time. General wear and tear is natural for all eyeglass frames, but not every set of frames is worth fixing.
The store or office issuing your new lenses will likely examine your existing frames with high power magnification. Before inserting new lenses, they'll look for any cracks or points of weakness. While little faults in your frames may not seem like a big deal, these indicators can give you an idea of how much longer your glasses with last.
Sentimental Value
If you've got a pair of eyeglass frames you absolutely love because they are so unique and have emotional significance to you, it's very likely you can get an exception. Providing this information to your optician or the store issuing your lenses can help you keep your frames for a bit longer.
Understandably, some things (like glasses) are important and need to be preserved. There's never a guarantee that you'll be able to get new lenses or repairs, but it's always worth a try for something special.
Reasons You May Not Be Able To Bring Your Own Frames to an Optometrist in Kelowna
It's possible that you might need new lenses before you want new frames. There are a few reasons why you may need to update your lenses.
Damaged Lenses
Accidents and improper care can cause damage to your lenses. You may notice scratches or cracks on the lens, especially the longer you have your glasses.
You may unintentionally damage any protective coating if you wash your glasses with hot water. You may accidentally drop your glasses, causing them to shatter. These things happen, but it shouldn't affect your vision unnecessarily.
If you have damaged lenses that are impacting your vision, it's time to get them replaced.
Vision Changes
It could be time for new lenses if you notice changes in your vision. If you notice yourself squinting to see things far away, or even up close, it's very likely that your prescription is outdated.
This doesn't mean you have to ditch your frames. Book an appointment with your optometrist to renew your prescription.
Blurry or double vision can be a sign of an outdated prescription, as well. However, blurry or double vision can also be a warning sign of a more serious condition. If you experience sudden changes in your vision, contact your doctor immediately.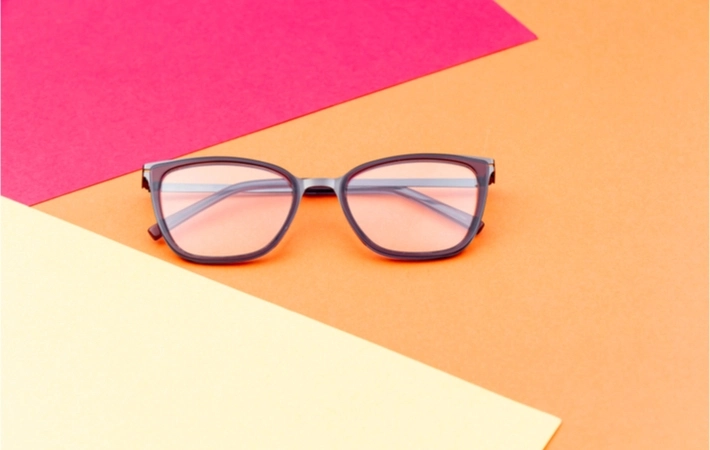 Headaches
Headaches can occur for a number of reasons, including issues with your vision. Whether it's an outdated prescription or an undiagnosed refractive error, recurring headaches can be a sign it's time to visit your optometrist.
You may want to check your eyeglass frames, too. If your frames don't fit you properly, they can cause headaches. You can visit an optician to have your frames checked and fitted. However, if your frames are causing your headaches and can't be fitted to your face, you should invest in new ones.
Career Changes
If you work a job that requires you to spend most, if not all, of your time on a computer, you may want to consider updating your lenses.
Anti-reflective lenses can help reduce symptoms of eye strain that many people experience every day. Getting lenses like these can help protect your eyes and your health. Talk to your optometrist about the best fit for you.
Will I Save Money?
By reusing your old frames, you may be able to save a little money. You won't need to pay for new frames, but the price of putting in new lenses can vary depending on your prescription.
Saving money isn't a guarantee, but you will eliminate the expense of buying new frames.
Other Considerations Before Visiting a Kelowna Optometrist
Before putting new lenses in your old frames, there are a few factors to keep in mind.
Out of Stock Frames
If you get new lenses in old frames, there's a chance your old frames could break during the new lens insertion. If your frames are no longer made, there's no way to replace your beloved frames. Keep this in mind when deciding whether or not to go with your existing frames.
Hard to Adjust
Older frames are difficult to adjust to someone's face and this could affect your vision. Depending on your prescription for the new lenses, you may need to readjust your frames to center the optics.
It's Fun to be Trendy
Even though you love your existing frames, it's always fun to get something new. Trying on new frames is an enjoyable experience and many retailers offer better deals for joint lens and frame upgrades.
Talk to Your Optometrist
If you have questions about your existing glasses or prescription, or any questions pertaining to your eye health, book a session with a Kelowna optometrist at our clinic.