What's the Difference Between an Eye Exam & a Contact Lens Exam?
An eye exam can sound like an all-encompassing diagnosis for any vision issues you may be dealing with.
However, this isn't always the case. Your vision is more complicated than just a single exam, and that's especially true if you wear contact lenses.
Let's explore the process for both an eye exam and a contact lens exam, including the differences highlighting each exam.
Eye Exams
Before walking into your exam, you may be wondering what the process can look like and how long it might take.
Your routine eye exam is about more than just updating your prescription. Maintaining frequent eye exams with your optometrists is great for the early detection of eye disease or developing conditions.
Some of these diseases and conditions include:
Age-related macular degeneration
Glaucoma
Cataracts
Flashes & floaters
Diabetic eye diseases
Your optometrist can conduct a comprehensive eye exam to diagnose further and treat any eye conditions you may be dealing with.
During your eye exam, your optometrist will go through your eye history and note things such as:
Your vision problems
Any corrective methods, such as glasses or contact lenses
Your overall health
Any current medications
Your family history
The eye exam will determine your overall eye health and if any possible vision issues or conditions require a more comprehensive exam.
Contact Lens Exams
A contact lens exam differs from a regular eye exam because of its specialized nature. Like prescription glasses, your contact lenses are customized to best maximize your vision.
Suppose you've ever struggled with finding the right fit for contact lenses in the past. In that case, your dedicated contact lens exam is designed to find the exact contact lenses you need.
Your contact lens exam will involve your optometrist finding the right contact lenses for your unique situation.
Let's look at some of these different types of contact lenses.
Daily Disposable Lenses
With daily disposable lenses, you won't have to clean and put away your lenses at the end of the day—they can be discarded or recycled.
Daily disposables are a healthy option with the latest technology. Most daily disposable lenses are soft contacts made from silicone hydrogel.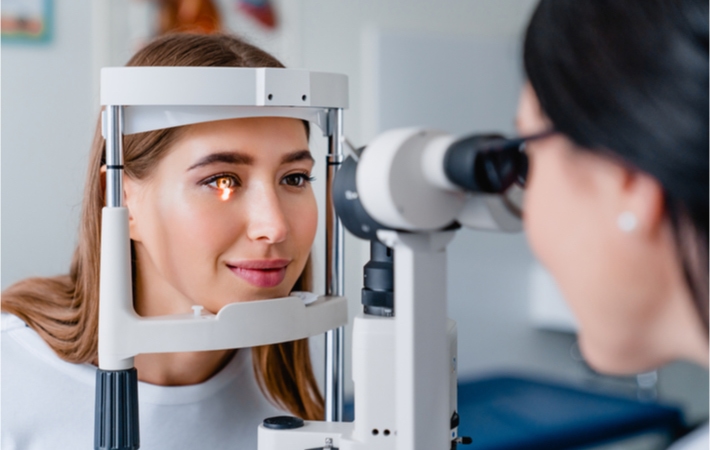 Toric Lenses
These contacts are great for people with astigmatism. Toric lenses offer different powers in different parts of the lens, so their positioning on your eye must be just right.
Toric lenses come in soft or rigid gas-permeable varieties.
Multifocal Lenses
Multifocal contact lenses are for people who need vision correction at multiple distances—meaning both farsighted or nearsighted.
These lenses come in bifocals, with 2 powers per lens, or multifocal, with several powers per lens.
Scleral Contact Lenses
Scleral contacts are large-diameter gas-permeable contact lenses designed to cover the entire corneal surface and rest of the sclera. Scleral contacts can morph an irregular cornea into a smooth optical surface.
Scleral contacts are gas-permeable, allowing oxygen to reach the eye's surface, resulting in more breathability for your eye.
Rigid Gas-Permeable Lenses
Rigid gas-permeable lenses or RGP lenses are more firm than soft contact lenses. They more closely resemble hard contact lenses, and they can offer more precise, crisper vision because they keep their shape when you blink.
RGP lenses are made of silicone material and allow oxygen to pass through the lens material to your eye.
These contact lenses are some options you can explore with your optometrist.
Highlighting the Differences
While your optometrist conducts eye and contact lens exams, the exam process is different.
Because of the customization of contact lenses, your optometrist will have to conduct a comprehensive exam to determine what contact lenses are best for you. The exam will also include determining if any pre-existing eye conditions may require specialized contact lenses.
Your contact lens exam will be more specialized. Your eye exam will determine whether you're susceptible to any eye conditions developing and focusing on early detection.
Your eye exam will also focus on updating your prescription for any glasses you may wear and adjusting the lens type to your needs.
Both exams work to contribute to your overall eye health. Contact lens exams are more specialized and exact to your contact lens needs.
Keeping up With Your Exams
Whether you go for an eye exam or a contact lens exam, it's essential to keep a consistent schedule with your optometrist. Practicing good habits when it comes to your vision can make all the difference.
Book an appointment with one of our Kelowna optometrists today and keep up with exams whether you need an updated glasses prescription or new contact lenses.